Help Us Choose our next Theme room
Boise Community
We love being a part of the Boise community in the great state of Idaho and take joy in sharing the many wonderful local experiences, history, and organizations with our guests. One of the ways we do so is through our 57-themed guestrooms that highlight our surrounding community, and we need your help as we look to re-imagine a few of our more generic themes. 
Treefort Music Fest is a five-day music and arts festival that takes place in multiple venues throughout downtown Boise, Idaho. Every year in late March, the fest welcomes 500+ emerging and well-known artists from around the country and world to play alongside 100+ local artists. In addition, Treefort brings hundreds of artists to the 13 forts of Treefort to celebrate food, drinks, art, yoga, tech, film, comedy, drag, skateboarding & much more!

Image: Photo courtesy of Matthew Wordall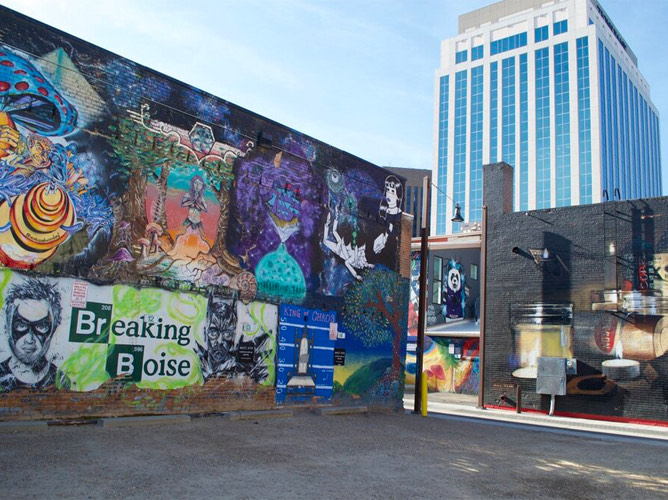 Freak Alley Gallery is the northwest's largest open-air, multi-artist mural gallery, located between 8th and 9th street and Bannock and Idaho in Downtown Boise. Artists add new works of art every year, creating an ever growing and changing experience for all. Each summer a large painting event is held which allows artists and community members to be a part of the Freak Alley Gallery as it transforms.
The Idaho State Museum provides a fun, interactive experience where people of all ages and backgrounds come to discover the story of Idaho. Through exhibitions, artifacts, and educational programming, the Museum explores the profound relationship between Idaho's land and people. Featuring over 514 artifacts, 800 photographs, and 48 individual multimedia exhibits, visitors learn how our past continues to shape the Gem State's present and future.
Just a few of our 57 theme rooms
- Boise Art Museum
- Egyptian Theater
- The Flicks
- University of Idaho
- Boise State University
- Morrison Center
- Basque
- Spirit of Boise Balloon Classic
- Boise Art Glass
- The Boise Library
- Sun Valley
- Idaho Wine
- Idaho Spud
- Oregon Trail
- Sawtooth Mountains
- Boise River Greenbelt
- Zoo Boise
- Idaho Shakespeare Festival
- Bogus Basin
- Farmer's Market